Employee Profile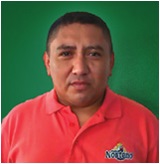 Name: Juan E.
Title: Supervisor
Career Area: General Management, Production & Maintenance
Location: Pronorsa, Honduras

Currently a supervisor in operations, I have worked in Cargill for 17 years. I started with the company in 1996, in the evisceration area, where I worked for five months. Because of good performance, I was transferred to the quality assurance area, where I worked as a quality monitor, a position I carried out for two years. I then worked as an auxiliary meat inspector for two years.
As a result of my passion to carry out my work at a high level and constantly give the best, I was promoted to quality supervisor, working in this position for four years. I was then promoted to be production supervisor in the main shift, and later to secondary processing, where I currently work.
My eagerness to learn and understand the entire production process has allowed me to become better each day.